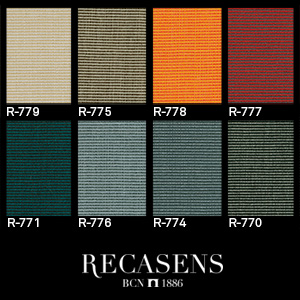 The Recacril<sup>®</sup> Tweed Solids Collection, including eight (8) Tweed Solids, is woven out of attractive and timeless color combinations and has been a part of the Recacril Solid collection for many years.
The decisión to increase our Tweed range in 2012 was made after exhaustive market research indicating that Tweed Solids are becoming more popular because the market trend is moving towards solids and Tweeds give our customers the opportunity to combine complimentary colors while at the same time giving the fabrics an added sense of depth and texture.
Although Recacril Tweeds appear to have a different construction, they actually have the same tight weave and outstanding fabric properties as all the other solids and stripes in our current Solution dyed Acrylic range including exceptional tensile and tear strength, dimensional stability, color fastness, and water repellence.