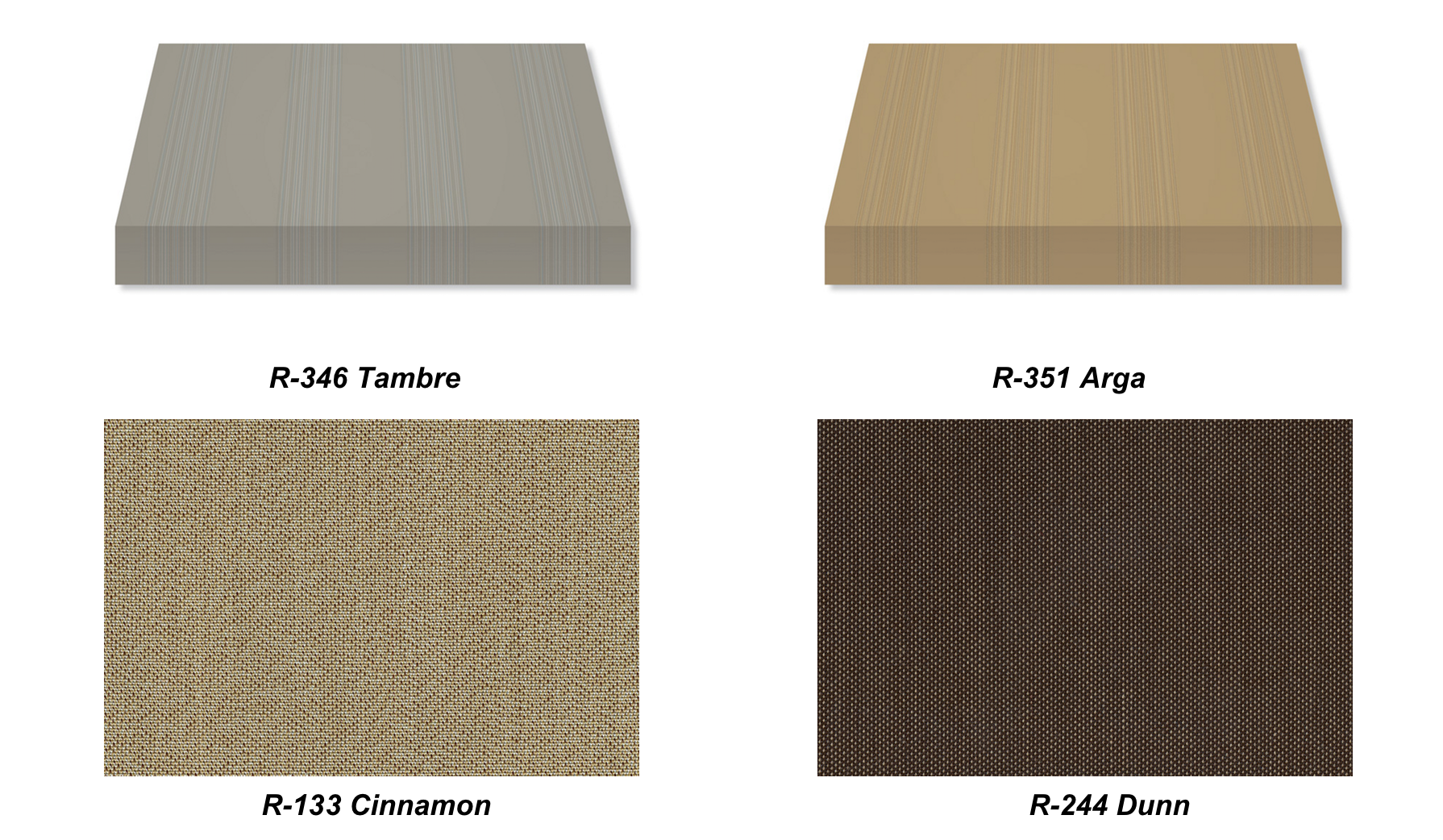 Based on early season indicators, the most popular patterns and colors for 2018 are predominantly modern and subtle stripes along with warm and textured solids. Here are some of the more popular fabrics being ordered this season:
Stripes
If early indicators mean anything, 2018 is the year of subtle sophistication and details, details,details! Orders this year have trended heavily toward subtle, tonal stripes, many of which you'll find are composed of sophisticated textural weaves. Here are some of our top selling stripes for early 2018:
R-346 Tambre and R-351 Arga. These new stripes are both modern and subtle. Tambre is a beautiful, cool beige shot through with subtle ice blue and white pencil stripes, while Arga is a warm tan accented with white and golden tones. Both fabrics are highly versatile, suitable for nearly any color scheme and environment. The use of Birds Eye and Box weaves using similar colored yarns achieves the look of texture, especially when viewed from the underside, making these fabrics very popular with awning fabricators this year.
R-352 Segre.  This large scale, graduated stripe fabric is truly an artistic masterpiece! Composed of a broad range of graduated neutral colors, each shade features a unique textured pattern for visual interest on both large and small scales. This bold fabric is perfect for large scale, retractable awnings and patio canopies.
R-362 Menor. This fabric is a twist on the classic large scale block stripe. We combine red and burgundy yarns to produce a color that is not too bold nor too dark. We then pair it with a combination of gray and white yarns in a Birds Eye weave to produce a light Gray field that lets in plenty of indirect light, while hiding any dust or pollution that may accumulate on the fabric over time. This fabric is truly the perfect blend of fashion and function that will stand the test of time.
R-411 Montornes.This green and beige stripe is the best selling new pattern in our collection. You may have seen similar patterns from other manufacturers, but nothing compares to the detail and quality you'll find in our Montornes fabric. Just a glance at the intricate color combinations and texturing of each stripe and you'll see that Montornes is a cut above the competition. This attention to detail literally shines through when viewed from the underside of the awning, offering a stunning view from both above and below.
Solids
This year, our most popular solids are anything but basic. Our most popular styles all have the appearance of texture, yet are still a simple or tight weave that is dimensionally stable, water resistant, and perfectly suited for retractable or fixed frame awning applications. For the first quarter of 2018 we've seen the highest demand for these three stunning solids:
R-133 Cinnamon. This warm, textured neutral, brings brown, white and tan yarns together for a beautiful golden solid that delivers a subtle warm glow as it filters the sun's rays.
R-244 Dunn. This dark stunner will instantly add an air of modern sophistication to any environment in which it's used. Featuring a deep black base woven with golden highlights, Dunn is truly captivating and sure to become one of our regular best sellers.
R-793 Linen Slub Tweed. Rounding out our top sellers, Linen Slub Tweed would be equally at home as a high fashion suit as it is on a high-end awning. This rich textured, neutral tone fabric is ideal for nearly any environment and adds subtle sophistication wherever it goes.
To order these or any of our other beautiful and durable fabrics, contact us, or your Recasens distributor today.