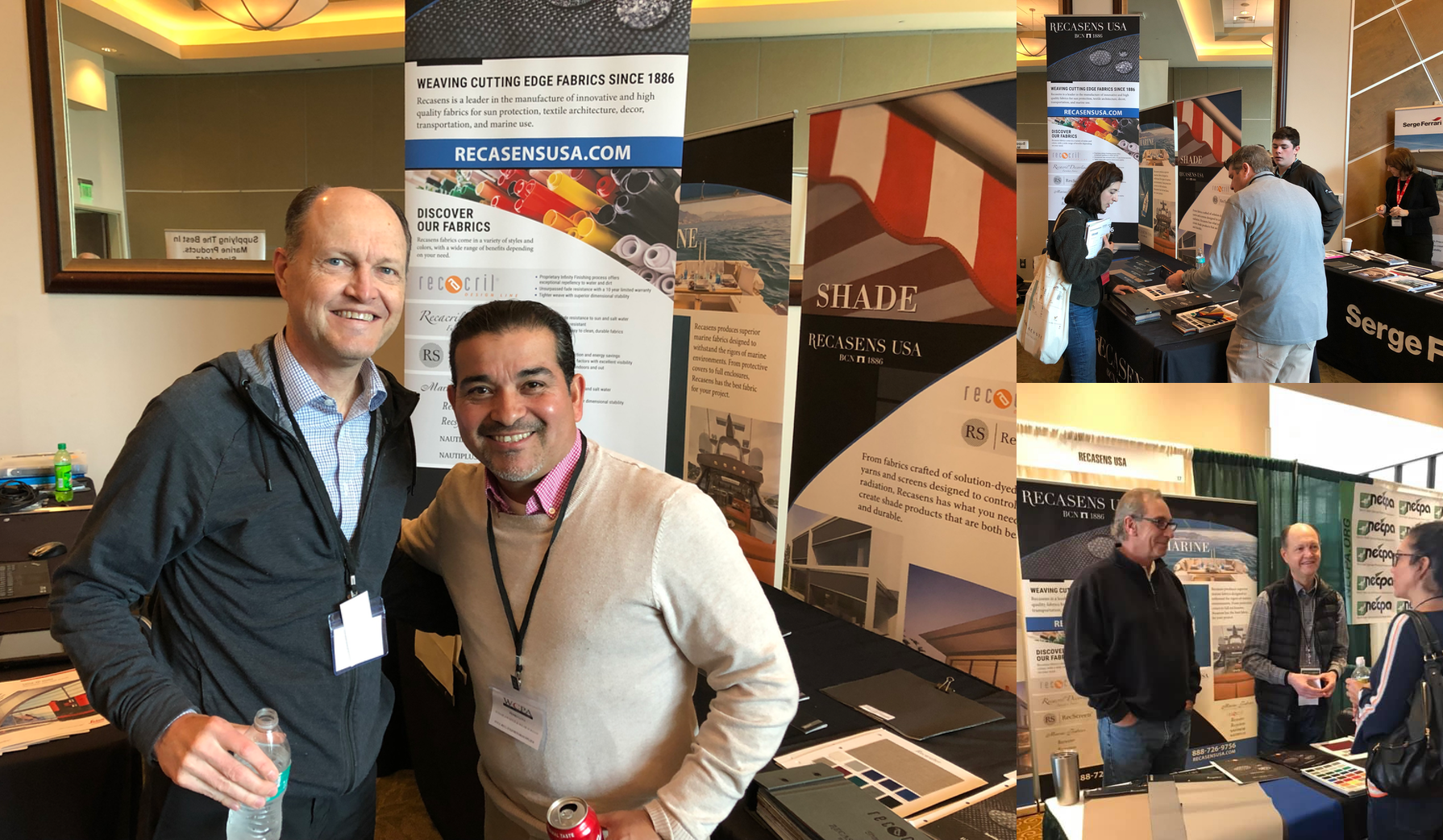 The first quarter of 2019 has been very busy for the Recasens USA team as we traveled across the country attending many industry events. Our first stop took us to Long Beach, CA, to the Marine Fabricators Association National Convention in January. We were so pleased to see one of our customers, SewLong Custom Covers, walk away with a 2019 MFA Fabrication Excellence Award for Tops! This was truly the highlight of the event for us. Congratulations to Justin and his team for a well deserved honor.
We quickly packed up for the trip back to the East Coast where we attended the North East Canvas Products Association Expo in Warwick, RI. This annual event brings together the top manufacturers, distributors, fabricators, retailers and service providers from across the region to see the latest innovations, gain new insights, and connect with other industry professionals. We had an excellent time at the event connecting with colleagues new and old.
February brought us back to California for the Western Canvas Products Association Expo & Annual Meeting in San Diego. We enjoyed meeting more industry professionals from the West Coast and were very pleased by the reception given to our new RECacril® 60" Collection Stack Book. Not only was it a hit with show attendees, but with distributors alike. Martin Aardewijn from Globe Canvas Products Company shares: "The swatches are bigger than all of our competitors so it is easier to visualize the larger stripes and the way the spine of the book is designed allows the book to stay open on a table to make viewing the stripes easy. The stripe patterns are also in color families making it easier to focus on and select from a specific color range. These simple details make the sales process easier and quicker!"
2019 has definitely started in high gear for Recasens USA and we look forward to maintaining this momentum throughout the rest of the year. Stay tuned for news on upcoming events where you'll be able to connect with the Recasens team and see our latest product innovations.